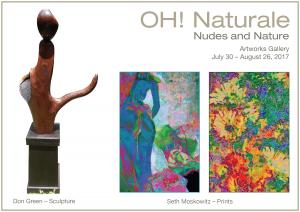 Seth Moskowitz and Don Green
Exhibition dates: July 30 – August 26, 2017
Artits's Reception, Sunday, August 6th, 2 – 4 pm
Gallery Hop: Friday August 4, 7 – 10 pm
Moskowitz has always been fascinated by the beauty of organic forms and how shifts in the interplay of hue, tone and texture affect the emotions evoked by his interpretations of the natural world. The nudes and nature scenes in "OH! Naturale" are intended to create an immediate emotional response that captures the viewers' attention and helps them discover something new about the subject they think they see.
Don Green's latest sculpture is based on the cycle of life, death, decay and rebirth. His wood sculptures are created from found tress that have gone through this cycle on life, death and decay and are now reborn as magnificent, sensual sculpture.