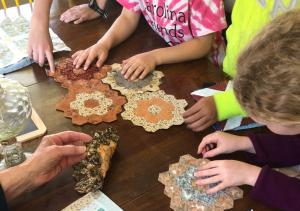 Take a seat, grab a needle and thread and follow in the legacy of Lisetta Maria Vogler Fries (daughter of Christina and John Vogler) and Bethie (a domestic woman who was enslaved at the Vogler House) and join us for a weekly Quilting Frolic (Bee) at The John Vogler House every Saturday. Quilting Bees were times of social gathering and family discussions.
In many cases, quilts and needlework duties were shared activities between all house members (free and enslaved: click this link for more information about our Hidden Town Project and the enslaved in Salem). Come and join this gathering as we discuss the quilting process, the history of the town of Salem as well as the complex narratives that joined to make it function and prosper.
We are working on a quilt for campers at Victory Junction. Victory Junction is a non-profit organization that runs a retreat camp that challenges children who have a serious medical condition to try things they never imagined possible. Our quilting day is a meaningful way to add your stitches to a community project and share time with family, friends and meet new friends.
Quilt patches are period reproduction fabrics and remnants of Old Salem costumes. There is also hoop quilting for little hands and if you are lucky you can watch traditional lace making. This is a great inter-generational activity!
The pieced quilt we are creating is a reproduction of a quilt made in 1873 by Lisetta Maria Vogler Fries for her daughter, Mary Fries, on her daughter's twenty-ninth birthday. The design is called a "Washington Sidewalk" pattern.
March 6, 1851 "…It is to be regretted, however, that singing schools and quilting frolics and the like give frivolous young people many an opportunity for distractions, while little attentions paid to the admonitions of the pastor and his wife." Minutes of the Land Arbeiter Conference, ROMNC,, Vol. Pp. 5596-5597