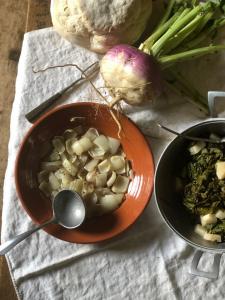 Summer Adventures: Hearth Cooking Saturday, June 16, 2018
Saturday, June 30, 2018
Saturday, July 21, 2018
Saturday, August 4, 2018
1:30 p.m. – 3:30 p.m.
Single Brothers' Workshop Kitchen
(10 West Academy Street)
Fun for the whole family!
Join in the fun as we cook on the hearth with recipes from the 18th century using various cooking techniques. We will be cooking seasonal recipes and tasting too!
Recommended Age is 6 and up. Children under 18 must be accompanied by a paying adult.
Registration: $50 per person
Register on-line at click here. For more information call: 1-800-441-5305
*Maximum class size of 12 – Ages 6 and up.
*If participant cancels more than 14 days before the event, a full refund will be given. Within 14 days there are no refunds.