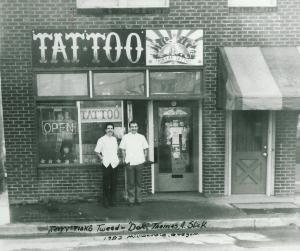 No matter what your business, your shop front is your face to the world. It speaks about you and your business. For commercial buildings it is one of the most important architectural features. How you decorate them can draw attention to the business. Over the past decades tattoo shop fronts have gone through many changes. Back in the day many tattoo shops were located in run-down neighborhoods, under stairways, in arcades or along the midways at carnivals. With tattooing becoming more mainstream, tattoo storefronts have changed as well.
This exhibit will feature photographs and illustrations of tattoo shop
fronts from around the world.