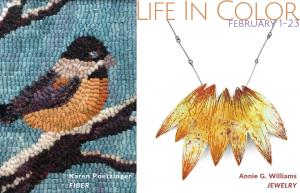 Piedmont Craftsmen is pleased to present "Life In Color", our first exhibit of 2019 featuring the work of Exhibiting Members Karen Poetzinger and Annie Grimes Williams. Join us for the opening during the gallery hop Friday, February 1st, from 7:00 till 9:00 pm.
Karen hand dyes 100% wool flannel, which is cut into strips then hooked onto a linen backing. The resulting work takes traditional rug hooking to the next level. Her goal is to create a colorful pieces that captures the eye and invites the viewer to touch.
Annie uses traditional metalsmithing techniques of shell forming and enameling. She primarily works in copper because of its inherent qualities, such as malleability and rich, vibrant colors she can achieve on the surface. Her very non-traditional jewelry is imbued with a delightful kinetic energy.
"Life in Color" is on display from February 1st- 23rd.