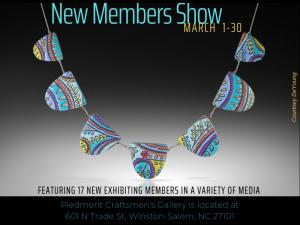 Join us for Piedmont Craftsmen's 2019 New Members' Exhibit, opening Friday, March 1st, from 7:00-9:00 pm.
Fine Craft artists from all over the country were given the opportunity to become part of Piedmont Craftsmen's Guild. After a challenging year-long jury process and careful consideration by the standards committee, 20 artists selected for the quality of their work & originality of design, were invited to become Exhibiting Members.
New Members showing work in this exhibit include Deborah Bryant, Neil Carroll, Ed & Kate Coleman, Walt Cottingham, Courtney DeYoung, Molly Dingledine, Emerald Estock, Brian Guhman, Anne Hanson, John Hege, Dawn Hinesley-Jones, Bob Meier, Nancy Ryall, Theresa St.Romain, Sam Stark, Kami Watson, and Marie Wright.
The exhibit will be on display from March 1st-30th. Please visit piedmontcraftsmen.org for more information about our Guild, Gallery, and Exhibiting Members.