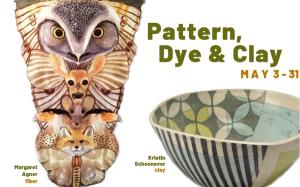 Join us Friday, May 3rd, from 7PM-9PM, for the opening of "Pattern, Dye, and Clay", an exhibit featuring the work of Piedmont Craftsmen Exhibiting Members Kristin Schoonover & Margaret Agner, during the Gallery Hop in downtown Winston-Salem.
Clay Artist Kristin Schoonover works in white stoneware, creating thrown and altered functional pieces, colored with mason stain and glaze in striped and gridded patterns with a graphic feel.
Fiber artist Margaret Agner uses a complex form of silk painting she developed in 1996, to create textures that are close to nature, yet form abstracted versions of the flora and fauna. Her loose underpainting dictates the rest of the composition and layers. The layers of dying, steaming, painting, resist drawings, and outline paintings can take over a week between curing and drying.
Work will be on display from May 3-31. See you in the Gallery! Visit Piedmontcraftsmen.org for more info.