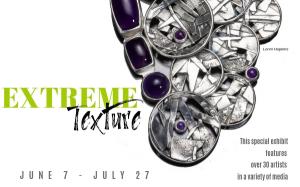 Extreme Texture, a group exhibit featuring unique, highly textured work from 30 Exhibiting Members through all fine craft media, opens June 7th from 7-9pm at Piedmont Craftsmen's Gallery.
Artists with work in Extreme texture include:
John W Willims, Loretta Forde, David Wilson, Judy Robkin, Penny Truitt, Lynne Sward, Brian Guhman, Bob Meier, O'Neal Jones, Lucy Clark, Mary Gunyuzlu, Amy Sanders, Mary Timmer, Mana Hewitt, Glenna Fleiner, Annie G Williams, Una Barrett, Lonni Hopkins, Joey Sheehan, Cherry Cratty, marie-Helene Grabman, Jane Frenke, Courtney Tomchik, Sharon parker, Diane Lublinski, Robb Helmkamp, Janet Bealer, and Karen Swing.
Extreme Texture will be on display from June 7- July 27th.
More information about our artists can be found at Piedmontcraftsmen.org
See you in the Gallery!