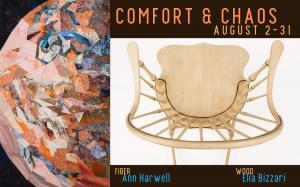 Join us Friday, August 2nd, from 7-9pm, for the opening of "Comfort & Chaos", an exhibit featuring the work of Ann Harwell and Elia Bizzari.
Ann Harwell's vision of the cosmos comes to life in her "Jupiter" series of quilts. Her intricate, jewel-like designs are pieced together with hand-dyed, precision-cut cotton, surface designed with strait-stitch machine sewing, and hand quilted through all the layers. Ann Harwell has been an Exhibiting Member at Piedmont Craftsmen since 2002.
Elia Bizzari, uses traditional tools and techniques, to rive, hew, shave, and turn elegant Windsor chairs in his workshop in central North Carolina. Known for the quality and elegance of his turning technique, his chairs reflect an integral understanding of the intrinsic qualities of maple, poplar, hickory, and oak. Elia has been an Exhibiting Member since 2008.
The exhibit runs from August 2nd- 31st.