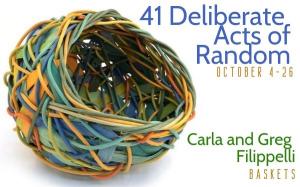 Join us October 4th, from 7-9pm at Piedmont Craftsmen's Gallery, for the opening of "41Deliberate Acts of Random", an exhibit of baskets by Greg & Carla Filippelli. Each work is woven with hand dyed reeds and wild vines in an original weaving style called random weave. From their Artist Statement:
"After many years of traditional Appalachian basketry and using patterns of all kinds, we discovered the weavers within nature. The animals that do not use easily recognizable patterns were our guides and teachers. We watched spiders and birds at work, particularly the weaver birds; we observed beavers weave their logs into dams and noticed the tiniest mouse nest was woven from soft, found materials. Suddenly we had become free from traditional patterns, and our work reflected this immediately and has never been the same."
The exhibit will on display from October 4th-26th.
Visit piedmontcraftsmen.org for more info.