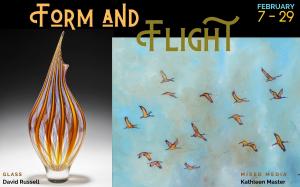 Join us for our first exhibit of 2020, "Form and Flight", featuring work by glass artist David Russell and mixed-media artist Kathleen Master, opening February 7th from 7-9pm during the Gallery Hop.
David Russell, from Camden, SC, makes hand blown vessels from the furnace using Venetian techniques coupled with a modern American aesthetic. All work is made using solo blowing techniques. David has been an exhibiting artist at Piedmont Craftsmen since 2015.
Kathleen Master is a self-taught, mixed media artist from Holly Springs, NC who uses acid etched copper and formed clay on salt-resist silk and cotton with natural organics to create one-of-a-kind works inspired by nature. Kathleen has been a Piedmont Craftsmen Exhibiting Artist since 2013.
Work will be on view through February 29th. Visit piedmontcraftsmen.org for more information about David and Kathleen and all our exhibiting Artists