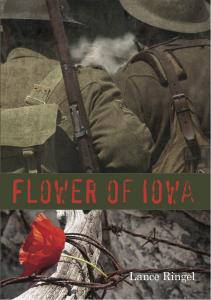 Flower Of Iowa is a special Veterans Day presentation, based on the novel by Lance Ringel (author of In Love With The Arrow Collar Man). It will be available virtually on the LTWS Facebook & YouTube pages through November 30.
France, 1918: The final months of the First World War. Naïve 18-year-old American soldier Tommy Flowers juggles life in the trenches with an unfamiliar and growing intimacy with his new buddy, British soldier David Pearson. As the pair experience the grim realities of the Great War, they are baffled by their feelings, but committed to exploring them further.
Employing excerpts from Lance Ringel's critically acclaimed novel Flower Of Iowa, this unique presentation brings to life Tommy and David's discovery of unexpected and forbidden love amidst the horrors of war.
This virtual staged reading will feature the original cast from the play's New York premiere .