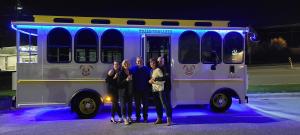 Chuckle aboard our jolly-TROLLEY for a BYOB local Comedy experience!
A local craft brewery visit with a tasting included. Miles of smiles with fun facts, local history, and an evening to remember. Climb aboard near Old SALEM with plenty of parking or enjoy having our TRIAD TROLLEY pick you up at VISIT Winston-Salem (off Brookstown Ave) or downtown at The BENTON (think "Small Batch"). Adults only please, for those who are not easily intimidated (or intoxicated). Don't worry, Be silly….
A different Comedian and a different BrewPub most every other Friday…. allow 2 hrs(+/-) ???????????????????? Minimum 4 to depart and Maximum 18 guests to practice social distancing (welcome your neighbors, coworkers, family).
All participants NEVER to get behind the wheel of their own vehicle if excess alcohol has been consumed.