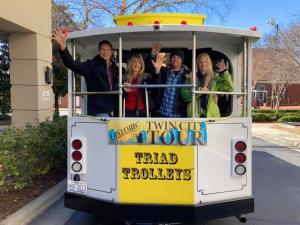 Allow up to 2-hours for this comprehensive history tour aboard a classy, sassy, and comfortable Trolley. Whether you were raise in Winston-Salem or are visiting from afar, this is a great way to see the sights and hear the tales thru decades of popular landmarks, architecture, and history galore! Enjoy the comfort of air-conditioning, cushioned seats, an on-board Guide, and a stellar Driver.
Tickets must be purchased online in advance, or by calling 336/722-7777. Beverages welcome but no glass or alcohol please. Maximum of 8 passengers to practice social distancing and a minimum of 4.
We will reach out within 24 hours of the start time to let you know if the minimum has not been reached for a refund or to reschedule.
Multiple Downtown Pick-Up Locations:
1) TRIAD TROLLEYS
2) VISITORS CENTER
3) FAIRFIELD INN
4) CARDINAL/INDIGO
5) MARRIOTT/EMBASSY