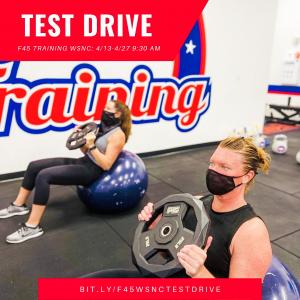 Join F45 WSNC for our Test Drive Series designed specifically for the first time F45er.
Classes offered over a 2 week period where you can come to our classes (FREE).
Whether you are first gym goer, a stay-at-home mom/dad, working professional, and/or an athlete/retired athlete, we have a place for you, all abilities welcome!
+ Class focus is on support through form modification, progression, regression & 1 on 1 coaching in our group training environment.
+ No mirrors, no clocks…just you and your workout! Focus on what you can do in your 45 minute class and set goals to accomplish over the 2 week.
+ 45 minute strength + cardio based sessions, lead by our certified coaches, who will coach you through the class, start to finish.
You will be surrounded by like-minded people that will also be starting F45 WSNC for the first time…friends welcome!!!