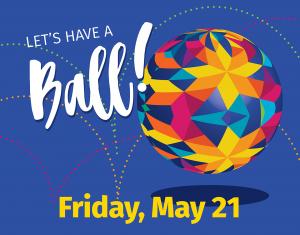 Each year, Kaleideum hosts a spring fundraiser — the Kaleidoscope Ball — that supports critical operations and allows us to meet our mission of inspiring wonder, curiosity, and lifelong learning in children and the community. Funds raised through this annual event help us increase access, provide camp scholarships, enhance educational programs, and support hands-on learning experiences. In other words, ALL the the things that make Kaleideum such a special place!
Over the last year, Kaleideum has pivoted in how we serve our schools, families, and community. Our annual fundraiser is no exception! Rather than hosting our traditional Kaleidoscope Ball, we've thought outside the box (or should we say, inside-the-box) and are excited to present Let's Have a Ball! — a "party-in-a-box." With it, we are bringing the BALL and the FUNdraiser directly to our community, so friends of Kaleideum can have a ball wherever they may be, all while supporting the Museum.
Each "party-in-a-box" features tasty treats — charcuterie, cheeses, crackers/breads, spreads, and flourishes including fresh and/or dried fruit, olives, nuts, sweets, herbs, edible flowers, and more — and surprises to keep the party going. We've even created Kid-Cuterie boxes that are sure to delight our youngest supporters.
Party boxes will be available for pick-up at the Millennium Center (101 West 5th St, Winston-Salem) the afternoon of Friday, May 21, between 3 and 6 p.m.