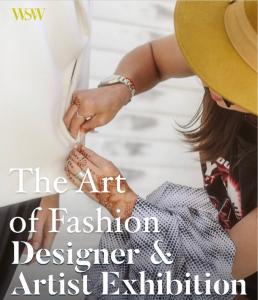 Arts Council of Winston-Salem & Forsyth County will host "The Art of Fashion, an Art Exhibit" in the Main Gallery at Milton Rhodes Center for the Arts September 3 – November 6, 2021. The juried exhibition will celebrate the design process related to design apparel and fashion accessories. Opening reception and awards ceremony will be held Friday, September 3, 5:30-7:00 PM. Masks required.
"The Art of Fashion, an Art Exhibit" is a collaboration between Southeastern Center for Contemporary Art (SECCA) and Winston-Salem Fashion Week (WSFW), and it will include sketches, illustrations, textiles, and 3D art works.
WSFW provides a platform to highlight and promote creativity and innovation in fashion and textiles by designers and industries in and around Winston-Salem. The 7th annual WSFW is scheduled for September 17 – 25; tickets are on sale at wsfashionweek.com.