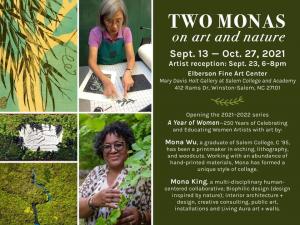 Mona Wu and Mona King have partnered together for the Salem Academy and College exhibition opening series 2021-2022, A Year of Women: 250 Years of Celebrating and Educating Women Artists.
An artist reception will be held at the Elberson Fine Arts Center on the campus of Salem College on Thursday, September 23, 6-8 PM.
Mona Wu, a graduate of Salem College, C'65, has been a printmaker in etching, lithography, and woodcuts. Working with an abundance of hand-printed materials, Mona has formed a unique style of collage.
Mona Kina, a multi-disciplinary human-centered collaborative; Biophilic design (design inspired by nature); interior architecture + design, creative consulting, public art, installations and Living Aura art + walls.