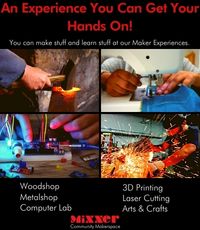 At Mixxer's Maker Experiences, you can learn woodworking, welding, printmaking, 3D design, 3D printing, blacksmithing, bladesmithing, and so much more!
Our Maker Experiences are for the creative and the curious. Make and take your own handmade knife, weld a flower yard art, laser cut your logo, sew your own stuffed animal, leatherwork gift, and so much more awesome stuff!
Mixxer is a Community Makerspace providing equitable access to Tech, Tools, and Community! Mixxer is an exploratory where geeks, artists, crafters and creatives collaborate to make and learn cool stuff.
You can become a member, or just sign up for a Maker Experience.
Make Stuff & Learn Stuff at Mixxer Community Makerspace!