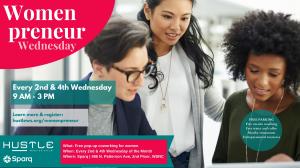 We know running a business can be expensive. Women, especially, already struggle with the gender pay gap. We want to level the playing field by providing a FREE and supportive environment where you can connect, collaborate, and grow. We're shaping an environment where women are free to be themselves, learn new things, and share their gifts.
We have:
– A vibrant environment with open coworking space, private meeting space, high-speed Wi-Fi, and freshly brewed coffee
– On-site consultants to help you get connected to the resources and tools you need to succeed.
– Refreshments are available
– Entrepreneurial resources
Parking: Free parking is available in the Link Apartments Parking Deck located at 530 N Patterson Ave, Winston-Salem, NC 27101. Bring your parking ticket inside for our team to validate it.
We look forward to seeing you.