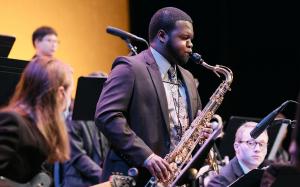 Saxophone students of Robert Young present an evening highlighting music by Black composers.
Venue Information
Location: Watson Hall - UNC School of the Arts
1533 South Main Street
Winston Salem, NC 27127
Simply the best! These words represent the high standard of excellence of students at the University of North Carolina School of the Arts and the quality of the performances they offer at home and on tour. Whether it is playing a symphony, performing Shakespeare, dancing in ?The Nutcracker,? building a set, or filming on location, being an artist demands a lifetime of dedication.

Chosen for their potential as artists, these talented students study with master teachers and guest artists of international renown. Self-discipline must be balanced with the freedom to grow and create. Along with rigorous training and a commitment to their art, students study science and math, languages and literature, humanities and philosophy, to develop the artist as a whole.

The mission of this school is to train talented students for professional careers in the arts. The University of North Carolina School of the Arts graduates go on to dance with American Ballet Theatre; sing at the Metropolitan Opera; act on Broadway and in film; design Emmy and Tony-Award winning shows; and win student Academy Awards. UNCSA alumni represent the very best in the arts today!
Contact Person: 1533 South Main Street
Email: boxoffice@uncsa.edu
Phone: (336) 721-1945