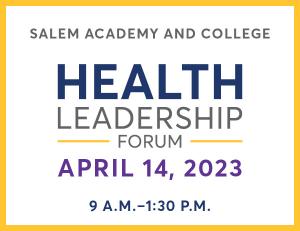 You are cordially invited to Salem Academy and College's second annual Health Leadership Forum – an annual convening of nationally recognized thought leaders in health who discuss current topics and trends in the health sector and the ways in which health impacts our society.
The Katherine Graham Howard C'1917 keynote address will be given by Patrice Harris, MD, who is Chief Executive Officer of eMed and the former president of the American Medical Association, the first African American woman to hold the position. Her body of professional work focuses on diversity and health-related inequities and disparities.
Panels of experts will discuss Human Rights and Environmental issues followed by a closing talk by Vanessa Northington Gamble, MD, PhD, University Professor of Medical Humanities at The George Washington University. Gamble is an expert on the history of American medicine, racial and ethnic disparities in health care, and public health ethics.