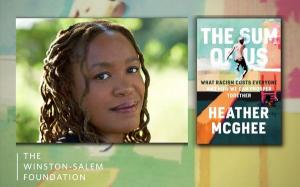 We're excited to welcome New York Times bestselling author and renowned expert on the American economy, Heather McGhee. Her book, The Sum of Us: What Racism Costs Everyone and How We Can Prosper Together, reveals how racism is holding us back—not just as individuals, but as a larger community.
In her book, McGhee embarks on a journey across America, where she explores what we lose when we buy into the idea that progress for some comes at the expense of others. She also identifies what she calls the Solidarity Dividend: gains that result when people come together across race to accomplish what we simply can't do on our own.
Join us for this important conversation, and leave inspired to help create a Winston-Salem where everyone can thrive.