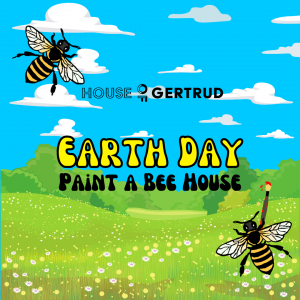 Celebrate Mother Earth by decorating a little house for her bees. These houses give bees a boost and can help your garden grow. The American made bee houses come pre-assembled so we can focus on the best part – decorating! We'll use eco-friendly paint that's fun for you and safe for the bees.
Bee inspired! This is a free form class where you can paint anything you like. Beginners welcome! We're here to help, if needed.
Relax in our cozy space. The joyful vinyl playlist will keep us attuned with nature as we paint. Outside food and drinks are welcome. We're next to The Porch and Hoots so lots of yummy options right here.
Ticket includes:
* The completed bee house.
* All paint, supplies and tools.
* Helpful tips, as needed.
* 2?0% off coupon in our gift ship.
Ages 16+