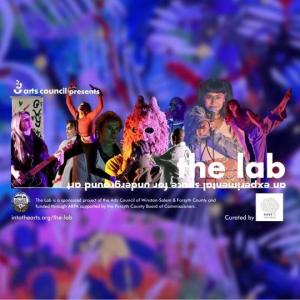 The Lab is a monthly showcase that serves as an experimental space for underground and emerging artists to showcase work, develop projects, and find professional opportunities, providing a safe and accessible venue for marginalized creative community members to connect and create together.
The Lab is curated by DOSE Artist Collective, a non-profit 501(c)(3) organization based in Winston-Salem, NC. Their mission: provide opportunities for artists to experiment, collaborate, and share work with the community – in the form of affordable housing, studio, and gallery space. Their vision: support creative endeavors in the community.
The Lab is a creative, collaborative, and supportive space for artists to workshop and showcase their art. The views and opinions expressed by artists and performers do not necessarily reflect the views and opinions of Arts Council of Winston-Salem & Forsyth County.
This event may contain adult content, and is recommended for ages 18+