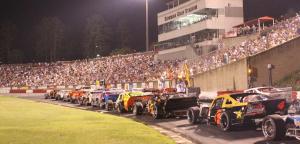 On any given Saturday night, the stands at Bowman Gray Stadium will be packed with children, families, parents, and grandparents. For many area families, a picnic at the Stadium and then watching the racing action is a Saturday night tradition. After the night's racing draws to a close, the pit area is opened to the public – and smiling children expectantly wait in line to get autographs from their favorite drivers.
NASCAR'S FIRST AND LONGEST RUNNING WEEKLY TRACK
AND STILL THE MOST EXCITING OF THEM ALL!
Located conveniently in downtown Winston-Salem, NC, Bowman Gray Stadium is the definition of excellence in short track racing. Each and every Saturday night in spring and summer, thousands and thousands of fans pack the stands to see the most exciting racing action found anywhere.