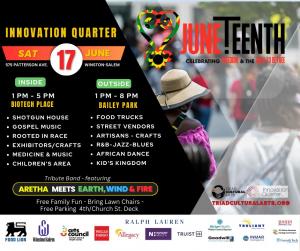 Triad Cultural Arts is thrilled to announce its highly anticipated Juneteenth Festival, a vibrant celebration of freedom, culture, and unity. This event commemorates the historic milestone of Juneteenth and honors the invaluable contributions of the Black community to our society.
Attendees can look forward to:
• Main Stage Performances: Enjoy live music, and captivating dance performances, which will showcase the richness and diversity of Black artistic expression.
• Cultural Exhibitions: Immerse yourself in a tapestry of the African Diaspora through captivating artwork, fashionable expressions and other cultural treasures.
• Food and Refreshments: A variety of mouthwatering culinary delights, including traditional soul food, and fusion cuisine representing the flavors of the African diaspora.
• Community Engagement: Participate in thought-provoking interactive activities designed to spark meaningful conversations about health disparities, literacy and social justice.
• Family Fun Kid's Activities: Bring the family and experience engaging games, face painting, storytelling, and other kid-friendly activities.