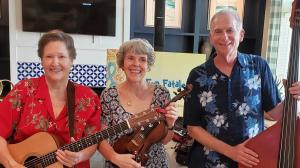 Kickoff the Forsyth County Public Library Summer Reading season with music performed by The Fun Fatale Trio and other activities for all ages at Central Library. The concert begins at 6:45 p.m.
With its unique blending of vocal harmonies, guitar, fiddle and upright bass, the Trio entertains with its own interpretations of new and old songs. Whether it's a sweet tune from the '40s, a fresh take on a bluegrass standard, a contemporary folk song or a rousing Celtic instrumental, the Trio's repertoire will surely put a smile on your face.
For more information, call Central Library Information Services Department at 336-703-3020.
Free and open to the public.