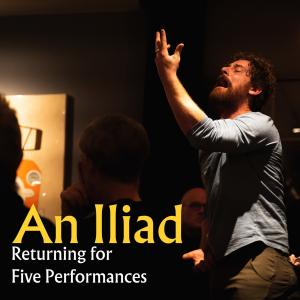 Performing live at Lesser-Known Brewery in Winston-Salem, this one-person adaptation of Homer's epic poem is a tour-de-force performance borne on the backs of gods and warriors. Through poetry and humor, physicality and rage this ancient tale of the Trojan War and the modern world collide in a one-of-a-kind theatrical experience.
RhinoLeap's AN ILIAD is traveling all over the country!
• • •
In North Carolina there are only two public performances: October 3rd and 10th, and they are only at Lesser-Known Beer Co. Seating is limited to 50 people per show.
• • •
Get your tix now to this one-of-kind theatrical experience as you enjoy great beer!