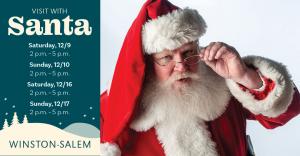 Santa will make appearances at the Winston-Salem Mast Store on the following dates:
• Saturday, December 9, 2 – 5 p.m.
• Sunday, December 10, 2 – 5 p.m.
• Saturday, December 16, 2 – 5 p.m.
• Sunday, December 17, 2 – 5 p.m.
Join us for this treasured Christmas event so that everyone in your family, especially its smallest members and biggest believers, can say hello to Santa!
Remember to bring your own camera for a family photo op. Also, Mast Store always welcomes well-behaved, furry, four-legged friends, and we encourage you to bring your pet so it can have its place in your family's holiday memories as long as it's on a leash or in a harness.
We look forward to seeing you and sharing in your family's Christmas cheer! Merry Christmas to you and yours from Mast General Store.