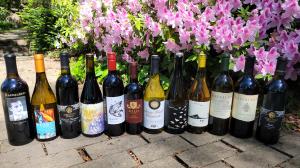 Nothing could be more Local!
The Fine Wines of NC holds an annual wine competition that is the toughest state wine competition in the United States. All wines must be 100% grown and vinified (made into wine) right here in North Carolina. Wines are tasted by top professionals in the field. It is not only blind (not able to know the producer), but it also mute. The judges instead write notes about the wines tasted and provide that back to the vineyards to give them professional reviews on how their wines are showing.
The awards are tabulated with UNCG Bryan School of Business & Economics, and we announce the winners at a multi-course dinner with five wines at the Millenium Center here in Winston-Salem, the Gateway to the Vineyards.
Open to the public – 21 and over. More info at NCFineWines.com
Tickets Prices TBD.